Cataloging in Publication (CIP) service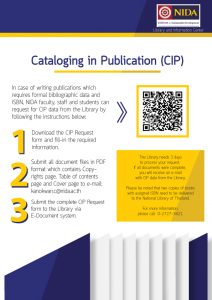 In case of writing publications which requires formal bibliographic data and ISBN, NIDA faculty, staff and students can request for CIP data from the Library by following the instructions below:



Download the CIP Request form and fill-in the required information.


Submit all document files in PDF format which contains Copyrights page, Table of contents page and Cover page to e-mail: kanokwan.c@nida.ac.th


Submit the complete CIP Request form to the Library via E-Document system.


The Library needs 3 days to process your request. If all documents were complete, you will receive an e-mail with CIP data from the Library.
Please be noted that two copies of books with assigned ISBN need to be delivered to the National Library of Thailand.
For more information, please call  0-2727-3821.