Having been a central library for the National Institute of Development Administration, the Library maintains its roles in procuring, collecting, servicing and distributing information materials in order to promote and facilitate teaching and learning activities, research, training and academin related services to lecturers, staff and students in the institute. The Library and Information Center currently houses an extensive collection of books and learning materials. covering 9 main subjects, namely public administration, business administration, development economies, applied statistics (including demographic and computer studies), social and environmental development, language and commnication, human resources development, law, tourism management and other areas of social sciences. In relation to the Institute's departments, programs of study and activities of schools/ centers/ offices/ programs, the center also provides information services to local communities as well as guidelines for establishing community libraries and information services centers for public and private sectors.
"An internationally recognized standard library with up-to-date resources that align with the institution's mission. It promotes lifelong learning, provides excellent service, and continuously develops the quality management system in accordance with international standards."
In addition of its roles as being a research library for the Institute, the Library and Information Center also serves as a depository library for the World Bank and a coordinating center for information in social sciences. Having maintained its membership of Thailand library network, the center is working with domestic and international libraries.
At the professional level, the Library and Information Center is an active member of the International Federation of Library Associations (IFLA), and American Library Association. The center has also forged cooperation with other higher educational institutions in information resources services as the center's staff are often invited as guest lecturers and thesis supervisors for students of other educational institutions. The center also offers internship opportunities for students of various institutions.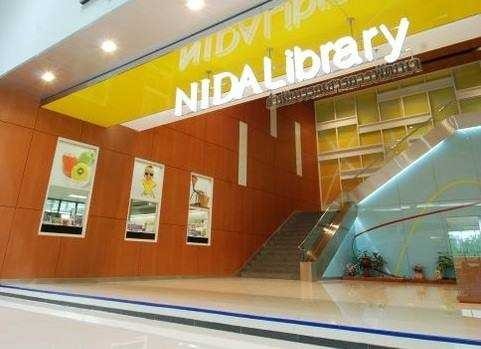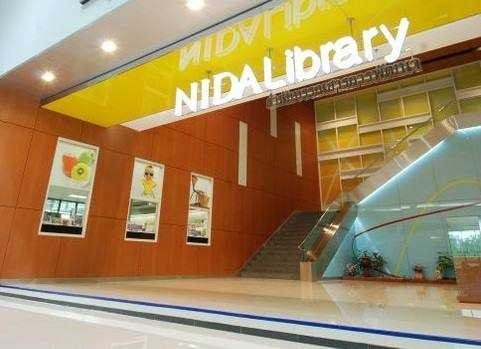 "Modern resources and quick responses for users' satisfaction."
The Library and Information Center aims to fulfill following obligations:
Providing services in a user-oriented manner to meet the needs of users in research and learning
Procurement, storage, preservation, and systematic information retrieval services to develop into an electronic library and strengthening in the field of development administration
Disseminate knowledge developed by the personnel of the institute
Promote lifelong education in the field of development administration.
Support for sharing information resources Both at the community, national, regional and international levels to promote research and learning in the field of development administration.
การเป็นห้องสมุดชั้นนำและมีมาตรฐานในการให้บริการทรัพยากรสารสนเทศเพื่อการศึกษาและวิจัยในสาขาพัฒนบริหารศาสตร์ และสาขาวิชาอื่น ๆ ที่เกี่ยวข้องกับภารกิจของสถาบัน ทั้งนี้เพื่อสนับสนุนและสอดคล้องกับการเป็นมหาวิทยาลัยชั้นนำของสถาบัน นอกจากนี้ ห้องสมุดยังต้องส่งเสริมการเรียนรู้ตลอดชีวิตของสมาชิกในสังคมอีกด้วย